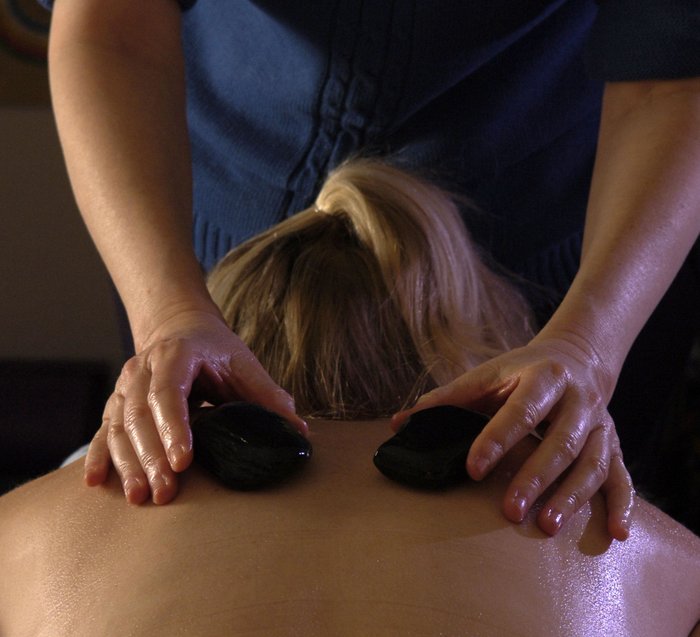 This profoundly relaxing session is available on a seasonal basis (November through April). This is one of the best ways to ground and center yourself during cold, rainy, and foggy weather, combining the heat and weight of the stones with Swedish/Esalen massage. Warm Stone Massage gently warms up your core to counteract the penetrating cold of winter and early spring.
This is the one session I offer where disrobing is necessary because oil is used in this massage; however, you will be modestly draped at all times. The session is generally 75 - 90 minutes -- it all depends on the concerns you wish addressed. Acupressure and Reiki can be included as part of Warm Stone Massage. Please note that because of the prep time needed to heat the stones and clean up after the session, I offer Warm Stone Massage as a weekend appointment only at this time.
The heat of the stones encourages the muscles to relax, allowing more effective massage of the muscles without having to apply excessively deep pressure, which limits or completely prevents muscle soreness the next day (a common response to typical deep tissue work).
Other benefits include:
Relief from muscular stiffness, tension and pain;

Increased circulation and a boost to metabolism;

Effective relief for carpal tunnel syndrome, arthritis, fibromyalgia, and other chronic conditions;

Increase in joint flexibility to encourage ease of movement; and reduction of anxiety and stress.
A profoundly relaxing session, Warm Stone Massage allows you to completely let go of tension at many levels.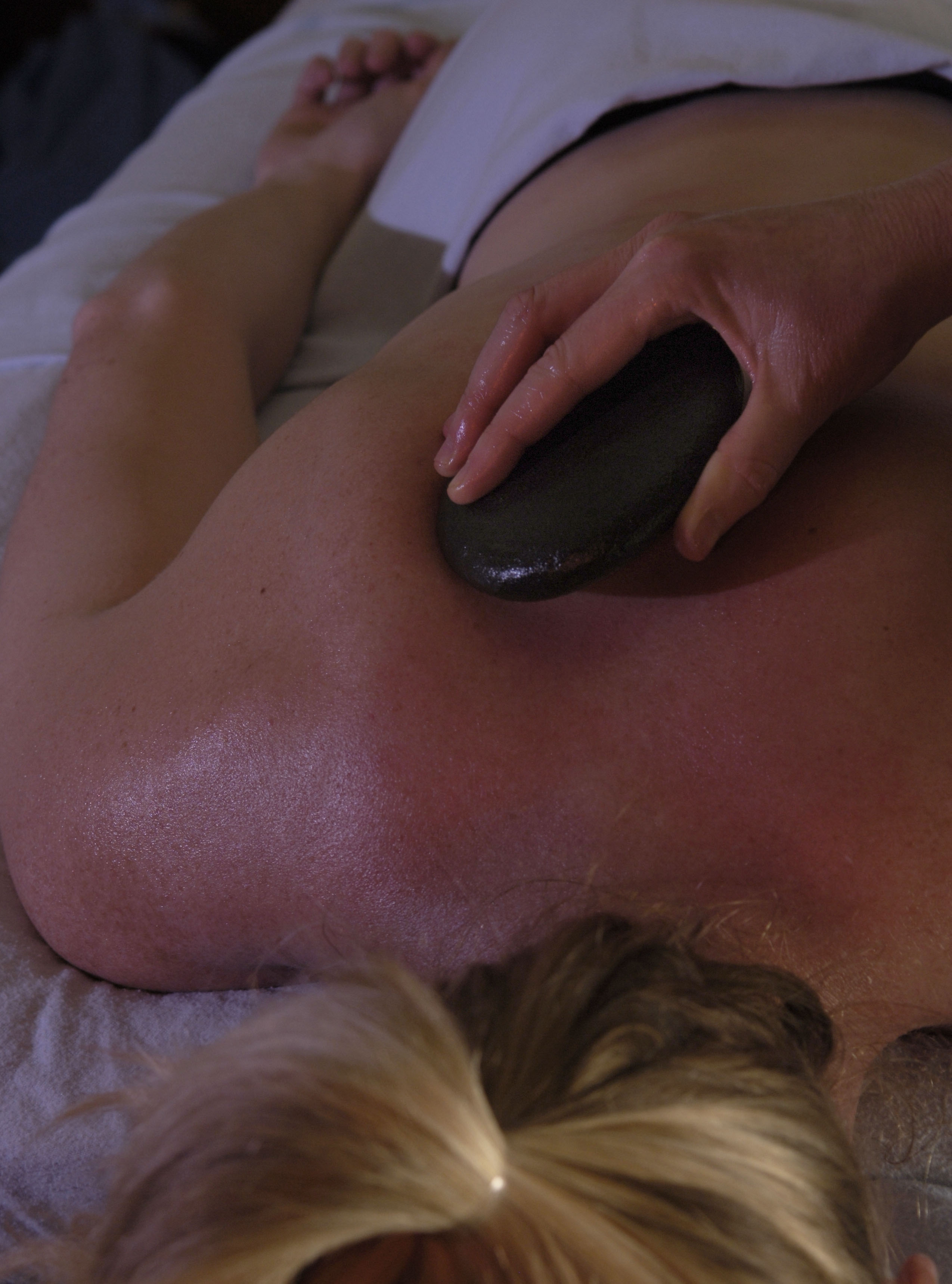 The Session
A Warm Stone Massage session always begins with a brief check in to discuss any current concerns so the massage can be tailored to your individual needs. If this is your first session with me, I will also go over your basic medical history. I will leave the room while you prepare for your session.
I take care to ensure that the stones are the optimal temperature and that you are comfortable throughout your session. During the first half of the massage, heated stones are placed on your back (on top of the draping sheet and a towel) to provide a warmth which softens and heats the muscles along your spine, while warm stones are used to massage your limbs. Once the stones are removed, Swedish/Esalen massage is done to your back and arms, in combination with more heated stones.
During the second half of the session, passive warm stones are carefully placed on your abdomen and torso (on top of the draping sheet and a towel), and additional warm stones are used to massage your arms and legs, as well as your neck. Scalp and facial massage is also included. At the end of the session, you are given time to rest in relaxation, get dressed, and have some water.
This massage is so relaxing, I recommend scheduling it for a time when you can go home and rest for at least two to three hours before doing anything else, so you can receive the full benefit of the session.
I'd be happy to answer any questions you have about this session, so please contact me by clicking here.
Contraindications for Warm Stone Massage
If you have the following conditions, Warm Stone Massage is not a good idea, and I reserve the right to not provide or stop providing Warm Stone Massage if there are any of these contraindications present:
Fever, illness, cold (less than 5 days in), nausea, vomiting;
Skin rash or breaks in the skin, wide-spread skin condition, inflammation, or other signs of heat, sunburn;
Recent surgery, or chemotherapy or radiation treatments;
Fragile, thin skin;
Large or extensive bruising from injuries or a fall;
Extreme fatigue, exhaustion, or weakened condition;
Poorly managed or advanced diabetes, or other conditions where circulation and sensation is impaired, including neuropathy;
Rheumatoid arthritis, Fibromyalgia (even though it feels good, heat can cause flares of inflammation/pain);
High blood pressure, ulcers;
Recent car accident (heat may worsen undetected inflammation);
Acute systemic condition, or injuries, such as sprains, broken bones, etc.
Being treated for a serious illness.
If you have any of these conditions, please let me know prior to your appointment. If we discover that you do have any of these conditions at the start of your appointment, I will be able to offer you Acupressure and/or Reiki, but will not be able to do a Warm Stone session.
Copyright 2015 Jan Fiore